We have been blown away just about every day of this past week with some more of God's amazing provision. Three stories in particular come to mind.
At the beginning of last week Tony sat down and recalculated (again) what our remaining expenses still are to make this Big Move to Missions (ie., how much we still need to make it to our final destination in Patagonia - and hopefully afford a roof over our heads once we get there). We were $2000 short. We have been unemployed for six months now, and he stopped receiving phone calls for some side jobs he had found. He was visibly worried when he told me, and followed it with a,
"What are we going to do?".
I said,
"I don't know, I give up worrying about it, honey. This is God's problem. He called us, He needs to provide. I'm done worrying about it."
Then I laughed
.
You have to see the humor in it all or you'll just cry. Tony did not seemed helped by my non-chalance. So we prayed hard, our faith returned, and we felt a lot better - Tony also decided he would fast. Three days later we went in to the church office to pick up the check of the money we had made at the fundraiser, along with other gifts that have come in. Tony came home and told this amazing story: when he got there the pastor said he had some good news. Someone had called that morning and said they wanted to give us a gift.
Of $2000
. Tony said he almost cried right then and there. His eyes filled with tears.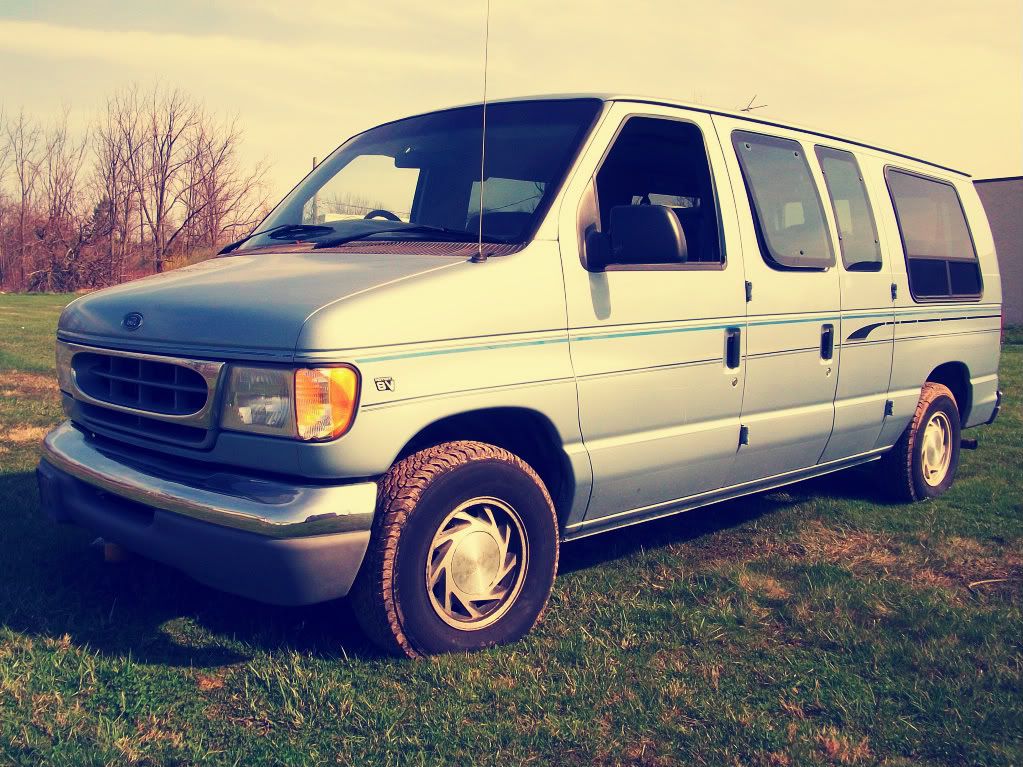 The Mission Mobile (before tinting; after pics to come)
Later that same day we stopped in to the shop of a friend's husband who tints car windows. Tony wanted to get an idea - just an idea - of what it would cost to darken the windows to our van - to keep prying eyes and the hot Patagonian desert sun out (it can reach 104, up to 107, degrees F in the summer there - most of Patagonia is actually desert, the sun shines every. day.). We only wanted to know how much it was, to see if we could even do it. As Tony told our friend about what we are doing and why, the guy offered to do the work
FOR FREE
- all we had to do was cover the materials (maybe $70 out of a $400-500 job). Later, when we took the van back to start getting worked on, he said, "Never mind, I'll do it all for you for free."
A few more amazing days went by, replete with God's goodness and more provision (not just material or financial - but much emotional, spiritual, and relational provision, as well.).
We went to church a couple of days later and were able to hunt down the family that gave us that huge financial gift. We wanted to thank them, even though they weren't looking for it (we try to thank everyone personally if possible - we truly are grateful for any and all support, moral, emotional, prayer, OR financial, and want people to know that). We then began talking about some of the supplies we want to take to Argentina, some of the missions things we want to do, and some of the things we aren't sure yet how we'll do - one of them being how to show the JESUS Film. I spoke with the head of the Jesus Film Project in Latin America several months ago who told me the best thing for us to do would be to go ahead and purchase the equipment and the film, and go from there. I researched projectors, a laptop, the screen, and the audio, took one look at the price ($4000-$5000 for all of it) and said, "Um, yeah. I don't think so." After telling this story to this particular family, they actually told us that they had a big screen in their basement we could have, and they might also be able to find an inexpensive, used projector for us. He also led Tony into another room and showed him some speakers we could have to use with the projector. They actually have tons of experience with buying and using this very equipment! They will also be giving us more movies and teaching material (DVDs) to show or give away!

this is actually a picture of the Jesus Film being shown in Mozambique... we don't have a photo of our own yet -
but we soon will! (super happy smile)
God is ridiculously good. He's so in this. I can not describe the joy and peace and abundance that comes from obeying God's commands. Being in His will is the most amazing thing I have ever experienced in my life. I think Tony would say the same.
We can't wait to get there! Six more weeks!
:)