fundraiser
We're crazy, and our life is insane. That's our update for now.
I meant to write this up a month ago, but things have been crazy busy. We did a
huge Yard Sale
, a huge
Fundraiser Meal
, then another yard sale. So now that that's all over, here's the latest on how things are unfolding:
DEPARTURE: We got our tickets! We leave for Argentina September 28th. My mom teared up; my dad is just worried about
exploding volcanos
and the economy. I don't blame either. I try not to worry about anything myself (
Matt. 6:34
,
Phil. 4:16
). I'm sure I drive them nuts (my kids do the same to me).
PROVISION: We are thrilled to announce that our ratty missions fund envelope that a month ago contained a few hundred dollars has bulged to, well, a lot. Between the Yard Sales, gifts at the Fundraiser, and other gifts that have flowed in, we now have most of our expenses covered. We wish we could say thank you to each person individually, and we do to the ones we know of, but we don't know who many of them even are. May the Lord repay you, whoever you are (
Ruth 2:12
).
Between the yard sales and fundraiser we were able to pay off the cost of shipping
Big Blue
, as well as some supplies for ministry, clothing, and some furniture - so as not to have to start from scratch in Argentina. (Which, incidentally, we we were willing to do, and thought we would - until everyone down there kept saying, "Bring
everything
you can, bring everything! It is
soooooo
expensive here." After they told us several times, we decided to listen.)

[FreeDigitalPhotos.net]
"They said to him, Rabbi
(which is to say, Master),
where are you living?
He said to them, Come and see."
- John 1:38-39
 As for where we will live once we get there, we don't know. But you can read
this post
, and
THIS
(timely, thought-provoking, convicting).
The next biggest thing right now is getting a job for Tony. Right now he doesn't have one there, but we are in faith that he will get one. Some people have told us we should try to raise monthly support.
How
? (see Missions Orgs below for why that is difficult for us). Anway, if Tony can't get a job before we leave, he will have to look once we're there. It's the Argentine way. No sending your resume by email, then following up with a phone call and interview. That's the "first world way"; it's different in Argentina. Almost everything is done in person. But you can pray for us. Because,
yes I am aware
, it is a little crazy to just move across hemispheres with your kids and without a job
or
monthly support.
One or two people have expressed interest in supporting us financially in Argentina. We are so encouraged by this. Even though Tony will be working to (
hopefully
be able to) pay our living expenses, we know it won't be enough. We are expecting him to make about $1000 a month. Hopefully more, but quite possibly less. Doing missions up in the mountains and surrounding villages, as well as reaching out to street kids and others in need requires funds. But, as the cookie has crumbled, we seem to have fallen into missions
a la Hudson Taylor
. We aren't into asking for money. We trust God. God is already showing us that by prayer alone, He is able to bring in all we need. It just encourages us to trust Him more and believe Him for greater things. We want to stay in Argentina, invest in the people and the gospel going forth over the long term. God knows that. We believe
He
put that desire there,
we know He did
, so He'll just have to provide for that. He's never let us down before.
TRAINING: Tony started going to a juvenile detention center to help with a Bible study. I'll be going tomorrow night for the first time. Tony loves it. His only regret is that he didn't know about it sooner. It's been going on for two years now. Oh well, experience is experience, right? It just fans the flames of his desire to work with young people and to go into the prisons in Argentina. He is talking about studying and getting some more training in Argentina - it may just be easier there with the language and connections with the church, etc. There's certainly nothing around here for him (in Spanish, that is).
Our second vehicle finally died a definitive death. Transmission. Getting used to what it's like to have one vehicle (not conducive to the
American
way of life, but a good training for our new life).
PREPARATION: We're packing! And buying supplies. I just hit the local homeschool used book and curriculum fair. Got what we'll need to homeschool for the next two years. After that, I'll be relying on people coming to visit us to bring us stuff. We've also talked about putting our oldest in school there maybe in the future, but not sure if we will; we'll see.
Busy also getting our finances in order - visiting our bank and setting up ways people can support us if they feel so led. We also paid off our credit cards at tax time; so that felt really good.
THE KIDS: Their teeth are clean, shots are up to date, and potty-training is under way... They've also been watching lots of cartoons in Spanish. Tony put them on one day months ago, and they've been watching ever since. They say they understand everything. The 11yo has finally started speaking some Spanish.
At his mother's expense.
His Spanish at this point consists solely of repeating phrases Tony says when he makes fun of me (which is all the time) by imitating the way I talk (which is
not
the way I talk, I keep insisting, but they don't seem to care - boys). Well, at least it's a start. And the miracle isn't lost on us (this was the kid who announced at five years old he was not
ever
going to speak Spanish because he's
American
. He stuck to that conviction, too... until now - hallelujah!). His accent isn't too bad either, which surprises me.
The kids wrapped up the school year only to hear Mommy-slash-slave-driver announce that we were starting next year's schooling now - as in now,
June
. They love me. Really. They were initially somewhat dismayed, but once I pulled out the calendar and explained my reasoning (summer break comes this December, kids, so you don't want to have to be doing school when everyone else isn't, do you???), they actually jumped right in and began calculating how many Math lessons they had to do to be done one academic year in T minus 3 months. They seriously are planning on being finished by September. They make me proud - and God seriously surprised me with this one. So far, so good; they are actually doing it - six days a week! Some unexpected fruit of homeschooling - owning their education.
In other kiddy news, Firstborn bought himself a laptop. He's been saving up his birthday and Christmas money for years and asked us if he could buy one. We let him do it, because he's growing up and we need to start loosening the reigns (hard). We also knew it would help him feel better about moving if he had something special that was "his" that he could take with him. He'll also be able to do his math without tying up the family computer, which is nice, since his sister started math on the computer this year, too, and we only have one. He's been very responsible with his computer and, even though there are rules in place and parental controls on it, my boy has a strong sense of right and wrong. I can see he means it when he says he won't search for or click on anything "bad". So far so good... Tony also thinks it will be a huge conversation piece for him in Argentina. He'll be forced to talk to the kids in Spanish as they gather around him to gawk at
his very own laptop
and bombard him with a million questions. God uses everything.
MISSIONS ORGS: This is hard for me to write, but here it goes: We put our application with
OM
on hold. They will hold it for us for the next two years - we may continue the application process at any time, but it's not likely. I don't feel the specifics are bloggable, so forgive me for leaving you hanging. That's just the way the cookie has crumbled. You can ask us in person if you want. Although we were devastated and deeply grieved by this door which closed - it can not be understated how this affects us for years to come
(which, incidentally, is the very reason Tony is looking for a job in Argentina, we don't really have a choice since we're technically on our own and can't go with an organization, nor are we going with a church) -
it has nothing to do with us, but with details that that are out of our control. We are learning to move on in the will of God. We are trusting Him. He has taught us some deeply painful, but very good and valuable lessons. And for those we are thankful. God closes windows only to open doors, right?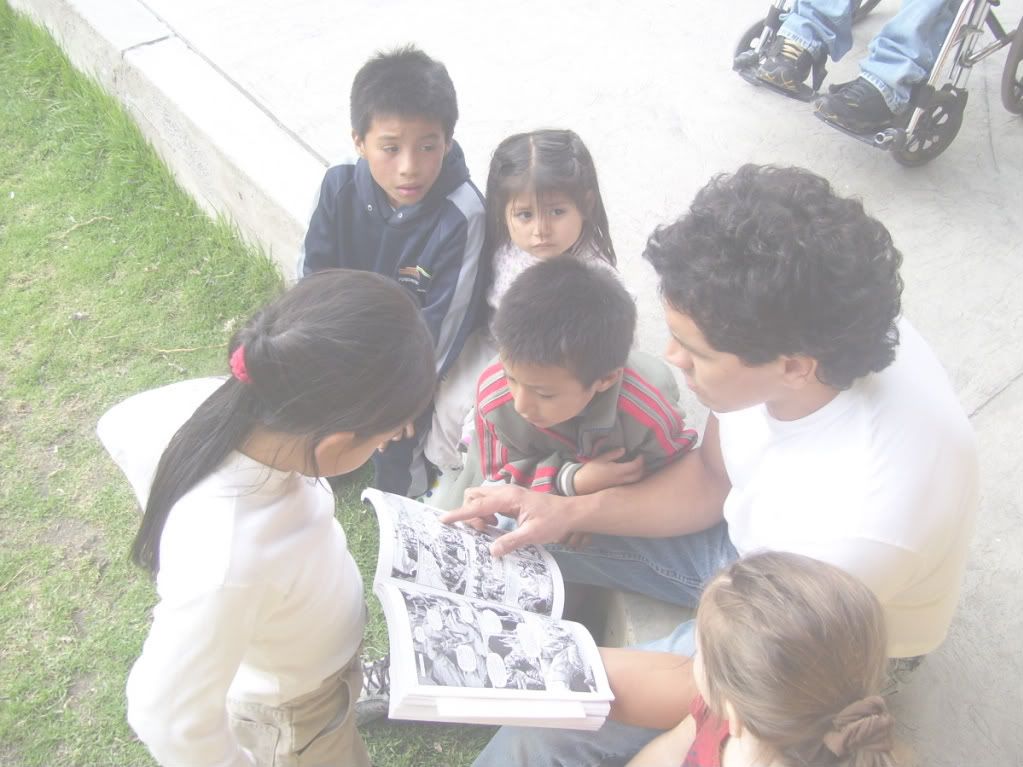 my favorite picture of Tony - reading the Illustrated Bible to orphans in Ecuador - man I LOVE this picture...